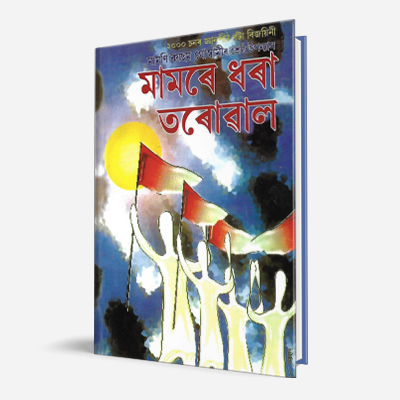 Mamare Dhara Tarowal Aru Dukhan Upanyasa
By Mamoni Roysom Goswami (Indira Goswami)
Mamare Dhare Tarowal, typically translated as 'The Rusted Sword' revolves around a long-drawn strike by the labourers of a famous construction company of India about an aqueduct over the River Sai in Raebareli Dist. Partially based on her experiences of strikes in the region, Goswami explores how the strike ultimately became a failure due to the betrayal of some of the labour leaders and the lack of unity and foresight among the strikers. Thus, a powerful tool of revolt and resistance ends up being as ineffective as a rusted sword. Throughout, Goswami infuses the novel with detailed contrasts of the impressive, gargantuan constructions being made by the workers, with the minute disagreements and secret plots play out amongst the workers, gradually eroding their unity, despite their knowledge of the hurdles they face as individual labourers. According to the academic Prafulla Kotoky, the success of the novel lies in how it is at times "poignant [but] in places where the writer tells us about the degradation, moral and physical, it is almost unbearably grotesque". The novel received the Sahitya Akademi Award in 1983.
About the Author
Indira Goswami (14 November 1942 – 29 November 2011) known by her pen name Mamoni Raisom Goswami and popularly as Mamoni Baideo, was an Assamese editor, poet, professor, scholar and writer. Her writing has consistently contained feminist and post-colonial themes, with a particular focus on the lives of the Indian subaltern, all while retaining a distinctly Assamese identity. Her work has received great acclaim, appreciation, and at times criticism for her bold representations and critiques of religious practices and North-Eastern secessionist movements. In fact, she played a critical role as the mediator between the Indian government and the United Liberation Front of Asom. For her immense literary contributions, she received the Jnanpith Award (2001) and Netherland's Prince Claus Laureate (2008).
Also read
Tej Aru Dhulire Dhushorito Prishtha (Pages Stained with Blood)
Perhaps Goswami's most famous work, Pages Stained with Blood is considered a classic of modern Assamese literature. In the novel, Goswami portrays the pogrom of the Sikh community in the aftermath of Indira Gandhi's assassination through a semi-autobiographical lens, piecing together the deaths of Sikh people in Delhi. Following a first-person narrative, it resembles a sort of diary of thoughts and experiences, that progressively become more chaotic and violent.