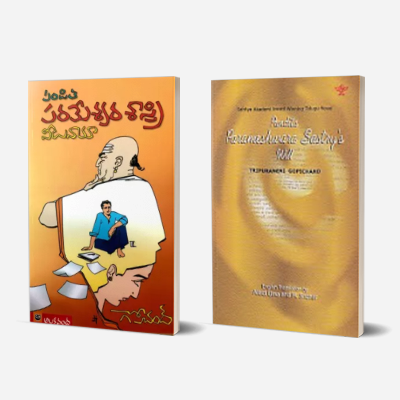 Panditha Parameshwara Sastry Veelunama
By Tripuraneni Gopichand
Translated into English as Pandita Parameshwara Sastry's Will by Allad Uma and M. Sridhar
Pandita Parameswara Sastry Veelunamma (1962) enjoys the distinction of being the first Telugu novel to have won the Sahitya Akademi Award in 1963. It captivates the reader with a narrative technique of an omniscient narrator, multiple voices, letters and even diary entries. The book brings out the debate on the use of the grandhik and the vyavaharik varieties of languages that took place in the early part of the twentieth century. It also deals with themes like tradition and modernity, the Sanskritic tradition and the influence of the West, the Orientalist and the Anglicist discourse. It is a novel that represents a journey of ideas from the material to the metaphysical. It puts to debate different systems of philosophical thought such as Marxism and Aurobindo's philosophy.
About the Author
Tripuraneni Gopichand (1910 – 1962) was a Telugu short story writer, novelist, editor, essayist, playwright, film director and a radical humanist. Gopichand was the son of renowned a social reformer and play writer Tripuraneni Ramaswamy. Gopichand, inspired by M.N. Roy's Radical Humanism, became the first state secretary of the Radical Democratic Party (India) Andhra Pradesh. His second novel Asamardhuni Jivayatra (Bungler: A Journey Through Life), was the first psychological novel in Telugu literature. He has also written dialogues for films like Rythubidda (1939) which deal with the peasant uprising. In all, he had 10 novels, 12 plays and over a 100 short-stories to his credit.
Also read
Asamardhuni Jivayatra
Translated into English as The Bungler by D.S. Rao
Regarded as the first psychological novel in Telugu literature, Asmardhuni Jivayatra (1947) is Tripuraneni Gopichand's second novel that has been translated into different languages. It is remarkable because it foreshadows early attempts at magic realism in Telugu while anticipating the discourse of the Absurd. Gopichand created a unique character, Sitarama Rao, which jolted the Telugu readers. Heir to a feudal order, the anti-hero is lost in theoretical thinking and cannot cope with the harsh realities around. Plummeting into mental derangement, Rao dies by suicide at the end. One can read the novel on many levels. On a very literal level it is a humdrum tale of a well-meaning but good-for-nothing man who is born into an affluent family but loses everything because of his gullibility and dies in penury. On another level it can be read as a philosophical discourse about man's place in the universe and his fateful alienation. By setting his novel against the backdrop of personal despondency and national turmoil, Gopichand achieves the interiorization of the outer and the externalization of the inner world of a character as no one has ever done before him in Telugu literature.