June 23, 2021
Tanaya Pandey
Battlefield by Vishram Bedekar
A Reader's View
'If we're thinking of Nationalism as revenge, if this becomes rooted in our history as a way of thinking, what becomes of man's evolution? I shudder to think.' Vishram Bedekar Battlefield, originally published in Marathi in 1939 as Ranaangan, translated into English by Jerry Pinto.
Europe is on the brink of World War II. Chakradhar Vidhwans is making his way back to India from London after two years of living there and Herta, a Jewish girl is escaping Hitler's Germany to Shanghai just like thousands of others. A chance encounter between them leads to a whirlwind romance and seeking solace in each other's arms in the grim times. Will their love last? It is for you to read and find out.
In essence, the quote above gives you the environment in which this book was based in, one that is relevant even today. Bedekar's ship that the story unfolds on is a battlefield representing all that is going on, on the shores that the ship keeps anchoring itself to time and again. The world is divided—there is race, class, religion, border conflicts and the experiences these characters face on the ship turns out to be the amplification of these very conflicts on ground. Bedekar places a plethora of characters and each of their experiences showcases everything that is wrong with the human world. The book begins at the end of the story and then it goes into reminiscing about how the story ended up at that juncture. Parts of the book to do with the romance specifically do feel very melodramatic and dated like the black and white movie era but I guess it is the language of the times.
It is a slim, quick read and Jerry Pinto's translation yet again made me feel like I was reading a book written originally in English and not a translation because it felt so seamless. My first reaction to the book was mixed. There were parts that worked for me and informed me and there were parts that felt overtly dated. But then, I attended the digital launch of the book and some facts that were thrown in by the author and translator, Shanta Gokhale, gave me a context to this book and made me see it in a different light.
Some facts that Gokhale shared during this launch conversation were that, this book remains the only novel that Bedekar ever wrote, as he never wanted to be a writer. He wanted to be a filmmaker and was in London studying for the same but had to return midway to India due to WW2. The book partly came from his own experience, his angst and was his commentary on the politics of the times. He wrote the book in a month flat and published it anonymously since he was never interested in making a name as a novelist. In this book he experiments with the forms of the novel—parts written in autobiographical first person, parts written in the third person and parts epistolary. It broke all the conventions of Marathi Literature at the time, one that Gokhale says no one picked up from and experimented further. This remains the only work of its kind from the time.
Another fact that I picked up was that of China giving shelter to over 20,000 Jews in exile during WW2 when most other countries restricted their entry at the time, a historical fact I had no idea about. What piqued my interest was the fact that the European Jews on the ship were headed to Shanghai, a land so far away from their own, one that made me research further on it and know more.
This mix of facts stated above will give you a context as to why this book holds such an important place in the Marathi literary canon and understand its place and subject in-depth.
Jerry Pinto at some point during the book launch conversation mentioned that one would pick up a translation for an author and not because of a translator, but I would humbly disagree with this thought because I, as a reader, follow works of a translator and that's how I have been introduced to so many great authors I would not have known of otherwise. Jerry Pinto, Arunava Sinha, J. Devika, Jayasree Kalathil, N. Kalyan Raman are just some of the Indian translators whose work I follow and blindly pick up in order to be exposed to the authors they introduce me to as a reader. It is the same practice I follow with some of the International translators as well. Translators are as important to me as the authors they translate. How else would I even access those authors otherwise?
Battlefield by Vishram Bedekar is the first in the list of translations of important Indian language literature that Indian Novels Collective and Speaking Tiger Books plan to bring to the table for English readers.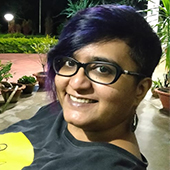 About the blogger
An ex-advertising professional, now a free soul, Tanaya Pandey, loves to travel (pandemic has put a full stop to that for now), read and is an avid movie buff. In an exploratory phase of her life, she uses books as a medium to traverse the country and the globe, learn about newer cultures, stories and expand her worldview. You can reach out to her on her bookstagram handle thekitabiyatri.