January 9, 2019
Indian Novels Collective
Musical Readings at the Times Lit Fest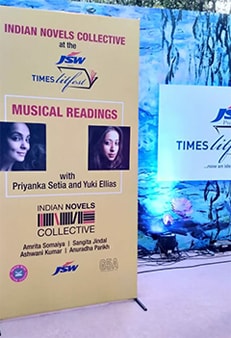 Indian Novels Collective's houseful event, Musical Readings at the Times Lit Fest proved that there will always be takers for a good story regardless of the era it is set in and most importantly, the language it was originally written in.
One usually does not associate the Times Literary Fest with readings of Indian novels, but not only was this Indian Novels Collective's second time at the Times Literary Fest but it was also a full house with the audience not wanting the readings to end! The event in question being Musical Readings with Priyanka Setia and Yuki Ellias. Viewers had the pleasure of hearing Yuki Ellias read excerpts from Manik Bandyopadhyay's novel, Padma Nadir Majhi and Priyanka Setia read portions from Usha Priyamvada's novel, Pachpan Khambhe Laal Deewarein.
Set in pre-independent India in a fictitious village by the banks of Padma river in present-day Bangladesh, Padma Nadir Majhi is about a local fisherman, namely Kuber, who finds himself exploited by a small businessman. This was narrated by theatre professional, Yuki Ellias with notes of the flute played by Easwaran Anantram (Vivek), which transported one to Ketupur where the novel was set.
Meanwhile, actor and performer, Priyanka Setia read pages from Pachpan Khambhe Laal Deewarein accompanied by violinist, Sanchit Chaudhary. Written by Usha Priyamvada, the book captures the anguish of Sushma, a hostel warden who's the sole breadwinner of her family and how she feels obliged to give up pursuing the love of her life as she considers it her duty to look after her three younger siblings.
Had it not been for these readings, the audience would not have even heard of these books.
Yuki Ellias echoes these sentiments too when while recollecting her childhood and school-life and admits that there is a bias towards Hindi and English. Despite being half-Bengali, Yuki had never heard of Padma Nadir Majhi, who knew more about Bengali poetry, limericks and films,  thanks to her Bengali mother who happens to be an avid reader.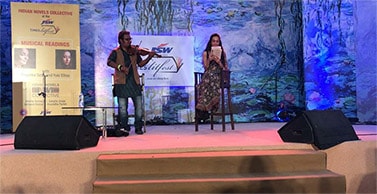 However, that is not the only reason that prevents people from reading Indian novels. Priyanka Setia points out, "We live in India where every state has its own language. Most people try to read in their own language. I am also Punjabi and so have read a lot of Punjabi literature.  So for me also, first is Punjabi literature then comes Hindi literature."
While reading as a hobby is commonly pursued by those who are more inclined towards the arts. Even those not inclined towards the arts, often find themselves reading English novels, if not voraciously, at the very least, a few books here and there by the author or genre of their choice. Like Setia succinctly states, people read English literature as its easily available and trendy.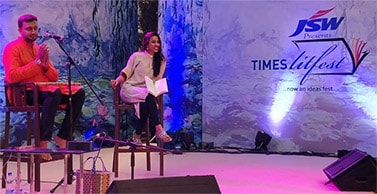 If only they knew what they were missing out on. Despite being set in pre-independent India, Padma Nadir Majhi perfectly captures how fisherman and for that matter, most blue collar workers and labourers from the unorganized sectors are treated. Rules pertaining to labour laws are not even half as stringent as they should be with workers, farmers and fishermen being grossly underpaid, overworked and made to work in the most inhuman circumstances. Yuki Ellias draws parallels with the novel which also touches upon how a petty and corrupt businessman, Hossain Miya is migrating fishermen to another island to set up a colony of sorts when she says, "All of us are trapped in a  certain sense of being kidnapped, taken to an island to work like dogs. Of course, we get funded for it but exploitation has not changed, it's maybe gotten worse."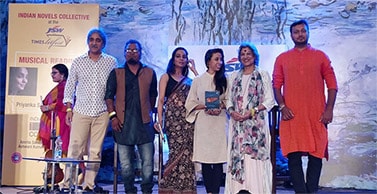 While Padma Nadir Majhi captures the plight of how fishermen are exploited, Pachpan Khambe Laal Deewarein is a story of a hostel warden who is also trapped by her circumstances. Despite finding love, she chooses to resist it and instead fulfil her duty towards her family, who without saying anything expect her to support them since she is working. When she finally does find herself getting attracted to a younger man, Neel, she finds herself subjected to a lot of scrutiny from both her colleagues, students and her family who comment about petty things like how much she goes out and what time she comes, while they assassinate her character, simply because she for once decides to befriend a younger man and thinks about herself.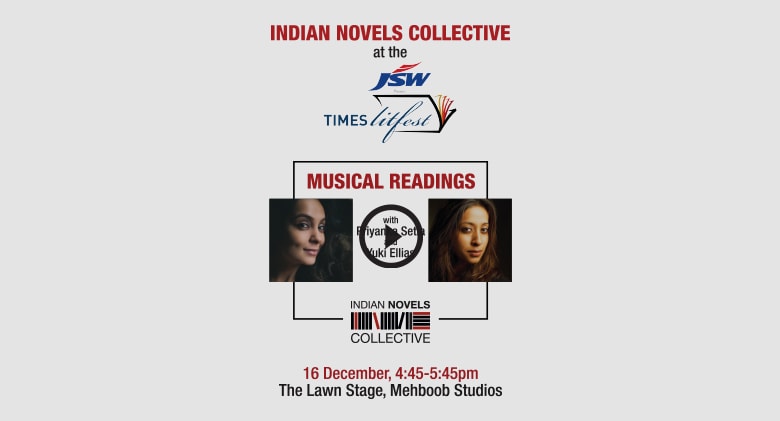 Pachpan Khambe Laal Deewarein perfectly captures the loneliness and isolation most single working women experience. On one hand, elder, unmarried, working women are viewed as a burden and by virtue of their being women, expected to be sensitive to their families' needs and put their family first as it is in a woman's DNA to be family oriented! Setia talks about the hypocrisy while narrating the conversation, Sushma's aunt, Krishna Masi had with her mother who commented on her high salary and how that will prevent her from attracting suitors, because of which they are okay with her marrying anyone. To which her aunt points out, had Sushma done the same when she was younger, they would have dissuaded her and told her to focus on her studies, instead! Quite telling right, even of 2018?
Just like how older films are dismissed as they will not be contemporary enough, the same applies for novels, especially regional literature about which, awareness is abysmal, however that also is just a notion; Regardless of the time or place it is set in, an evocative story is timeless, the only barrier being our impressions and language, the latter problem, which forms the very basis for Indian Novels Collective's existence – to reach all kinds of readers, regardless of their nationality, mother tongue or age.