July 8, 2019
Rhea Pereira and Elsa Thomas
The Monsoon Reading of Mohan Rakesh's 'Ashaad Ka Ek Din'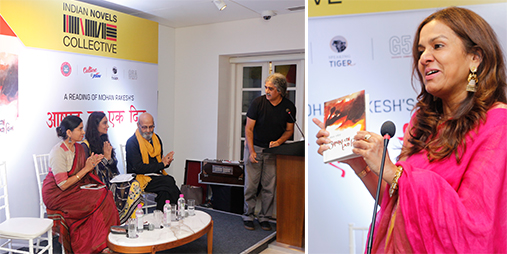 The Monsoon Reading of 'Ashaad Ka Ek Din' —the first modern Hindi play by Mohan Rakesh held at Jindal Mansion on Friday, July, 5, 2019 was attended by a motley group of theatre lovers and some renowned artistes. Sangita Jindal, Amrita Somaiya, Ashwani Kumar, Anuradha Parikh — the core group members of Indian Novels Collective, were all present to support and conduct the evening's proceedings. Ashwani Kumar began the event by shedding light on the iconic play by Mohan Rakesh and introducing the performers for the evening with verses from Kalidas, celebrating clouds and rains in the city. He also thanked veteran actor, Saurabh Shukla and curator of Literature Live, Anil Dharkar for gracing the occasion. Mrs Sangita Jindal, chairperson of JSW foundation, extended a warm welcome and spoke passionately about JSW foundation's association with Indian Novels Collective and the group's translation project that aims to make Indian language classics accessible to English readers and popularise readings of classic Indian literature. She urged the audience to make the effort to broach Indian languages and keep the traditions and cultures flourishing, with adequate support.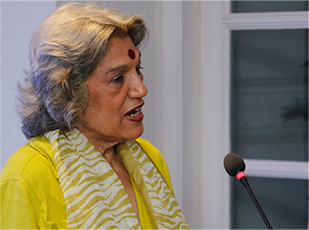 Dolly Thakore — well-known and respected senior theatre artiste and critic, began by paying tribute to Girish Karnad and spoke of her association with the playwright and her privilege of getting to work with him. Ram Gopal Bajaj, legend of Indian theatre and former director of National School of Drama, spoke of his fond memories of Karnad. He hailed him for his plays like 'Tughlaq' that made a mark of excellence in Indian theatre and literature. He then went on to speak of Mohan Rakesh's 'Ashaad Ka Ek Din' and his experiences with the work.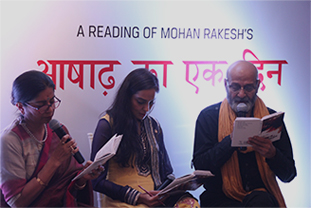 The play reading began with Meeta Vasisht — versatile actress, director, producer and Priyanka Setia — another noted actress, playing the parts of Mallika and Ambika, respectively. The performers tried to give a sense of the Vachika Abhinaya(or spoken word) to the audience, which was beautifully conveyed through their camaraderie and expressive reading. The audience was also regaled with songs sung by Priyanka Setia at intervals, to match the theme and mood of the reading. Meeta Vasisht vivaciously contrasted the melancholic mood with a lively folk song, tirading her lover for leaving her. She spoke about the beauty of diverse folk traditions across India which have enriched art.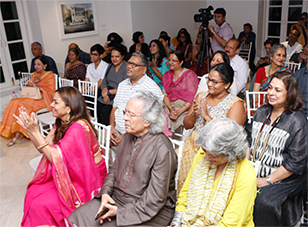 Ram Gopal Bajaj personified Kalidas with his mesmerizing performance. The fluidity of shifting characters was almost child's play to this master performer. Meeta Vasisht also spoke about how she was moved to tears, the first time she read Malika's monologue of 'Ashaad Ka Ek Din'. The reading ended on a lighter note with her encouraging the audience to join in a song.
The audience got a feel of the greatness of Mohan Rakesh's work with the guest artistes urging them to go back and read more. Mrs. Sangita Jindal felicitated Dolly Thakore, Meeta Vasisht, Priyanka Setia and Ram Gopal Bajaj – thanking them for enthralling the gathering with a rich sense and feel of this masterpiece by Mohan Rakesh.