July 7, 2020
Ranjana Sharma
Verses of a vanishing language
A reader mourns the neglect of Dogri literature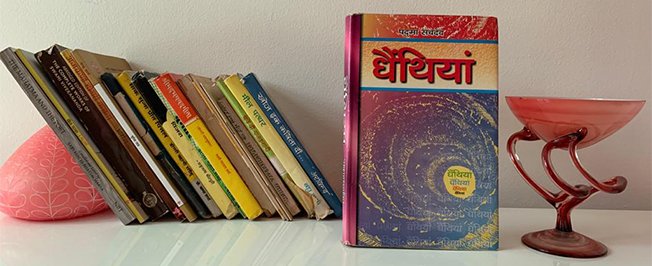 The first words that were spoken to me, and the ones I uttered, were in Dogri. It's the language that I dreamt in, and still do. But when I started reading—at the age of 9 or 10—it was in Hindi. 'Baal Jagat' was a carefully curated section for children in Dharamyug, a weekly magazine we subscribed to. I couldn't wait to read the story, poem, occasional joke or anecdote, and an accompanying cartoon that completed 'Baal Jagat'. Gradually, I moved to the short-stories in the feature section and was introduced to the works of Malti Joshi, Yashpal Sharma, and such prolific writers.
I was introduced to Dogri literature through my father, a Dogri writer. I can't recall exactly when arthritis began to set in in his writing hand, but that was when I started taking dictation of his Dogri short-stories. I was hooked. I quickly read all his other stories, and then moved on to other writers.
After losing my father, we also started losing his tangible heritage—the books and literary magazines that he cared for all his life. Watching these objects of memories erode would break my sister's heart, and on her insistence, I collected his remaining books and brought them home with me. From his collection, I discovered Tanthiyan, a book written by an iconic Dogri writer, Padma Sachdev. We knew Sachdev was the first woman poet of the language. We would sing her Dogri songs (many of which were sung by Lata Mangeshkar) on all happy occasions. But we had never read her books, her poetry and novels.
The title, Tanthiyan, reminded me of what my mother would say when we siblings and cousins would engage in an energetic chatter. "एह केह तैथियां लाईं दियां न," what's all this unnecessary banter, she would say. Tanthiyan or 'unnecessary banter' was an intriguing title, but I was not prepared for what a book with such an unassuming title would have in store for me.
Tanthiyan was not an easy book to read. A poetry collection, with all poems in four crisp lines. Life's lessons, experiences and observations distilled into four measured lines. The vocabulary was challenging, and kept me motivated to understand the essence of the poems. It wasn't easy, but it was so satisfying and nourishing to read such couplets in Dogri. Without doubt, Sachdev's Tanthiyan is a literary masterpiece, a complex yet superbly crafted poetry. Some poems are perhaps the most beautifully structured lines in Dogri literature:
"सुक्का दा ऐ बन बड़ा बसदा बी हा ,
रूह ही तरेयाई दी पर हसदा बी हा ।
बदले कन्ने पेच लड़ान्दा बी हा ,
धरतिये दे पैर ए झसदा बी हा ।"
I attempted to translate these lines. I could barely convey the context, definitely not the brilliance:
This decaying forest was once flourishing
Despite the thirsty soul it would laugh
It would also play with the clouds
And massage the feet of the earth
Sachdev has penned a few other poetry books in Dogri— Tawi te Chenah, Nehariya Galiya, Pota Pota Nimbal and many, many more. In 2001, she was awarded Padma Shri for her contribution to literature.
There are many such literary classics in Dogri. They are our literary heritage that are barely read by a handful of people now. Slowly, we are losing Dogri. Children are not taught the language. Sachdev is deeply saddened to witness the state of Dogri in its own land. Even in her twilight years, she is tirelessly working to convince speakers of Dogri to reclaim their language. To her disappointment, speakers of Dogri have massively dwindled in her own lifetime. These beautiful poem in Tanthiyan, describe her pain:
"स्हाड़ी बक्खी कुन करा दा सारताँ,
कुन पढ़ान्दा म्हिसि ग़ेदियां बॉरताँ
खिसका दी ऐ ड़ोगरें दी इट्ट इट्ट्ट
कुन खडेरे ढोन्दियां ए मारतां। !"
Who is looking out for us, guiding us
Who is reading to us our forgotten stories
Foundation of us Dogras is shaking, brick by brick
Who can resurrect these crumbling buildings
About the blogger
Ranjana Sharma was born in Jammu, and lived the first 2 decades of her surrounded by Dogra culture and heritage. She moved to Muscat, Oman after her marriage, and has been living there for 27 years, where she teaches cooking and painting. She is deeply fond of Dogri culture and literature, and hopes that more and more Dogras cherish their language.