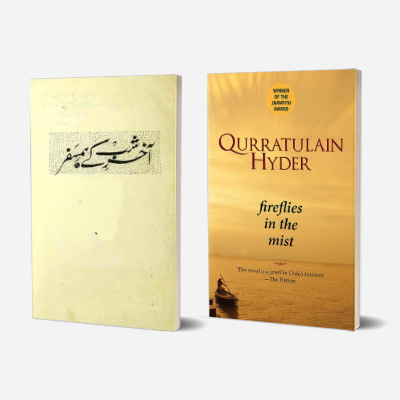 Aakhir-e-Shab Ke Humsafar
By Qurratulain Haider
Translated into English as Fireflies in the Mist by the author
Fireflies follows the creation of modern-day Bangladesh—from Indian province, to Partition, to the emergence of statehood—as told through the impassioned voice of Deepali Sarkar and others around her who live through the turbulence. Hyder perceptively and majestically follows the trajectory of Sarkar's life—from her secluded upbringing in Dhaka to becoming a socialist rebel, from her doomed love affair with Rehan Ahmed, a Muslim radical with Marxist inclinations to her ultimate transformation as a diasporic Bengali cosmopolitan—in the way that many of yesterday's revolutionaries are slowly but surely ensnared within a net of class and luxury dangled in front of them. Hyder also explores the growth of tension between Bengal's Hindus and Muslims who had once shared a culture and a history. History, says Hyder, is another name for humanity's inability to learn its lesson. It received the Jnanpith Award in 1989.
About the Author
The Grande Dame of Urdu literature—Qurratulain Hyder was a novelist short story writer, academic and journalist. Known as Urdu's Marquez, besides her oft-mentioned moniker 'Ainee Apa', Hyder began her literary career writing short-stories. She has also published six novels, novellas and a number of prolific translations. She received the 1967 Sahitya Akademi Award in Urdu for her short-story collection Patjhar Ki Awaz (The Sound of Falling Leaves) and the Sahitya Akademi Fellowship in 1994. She has also been honoured with the Padma Shri and the Padma Bhushan (2005).
Also read
Mere Bhi Sanam Khane
Translated into English as My Temples, Too by the author
Situated in the matrix of Partition, Independence, democracy—near simultaneous events that changed India irrevocably—Hyder's novel examines the promise and disillusionment that came with the birth of two new nations, through the lives and deaths of the young citizens of the fabled city of Lucknow. Set in the 1940s, it tells the story of Rakshanda and her brother Peechu—children of privilege—and their friends Kiran, Vimal, Salim, Christabel. They are the 'Gang' of Lucknow; idealistic, nationalistic, liberal and rational. They meet in coffee houses, run a progressive magazine, fall in love, and dream of building a brave new world. But with the turbulence of Partition and Independence, the quiet rhythm of their lives is brutally disrupted. New animosities replace old loyalties, and the merry 'Gang' is torn apart as the old order begins to fragment.