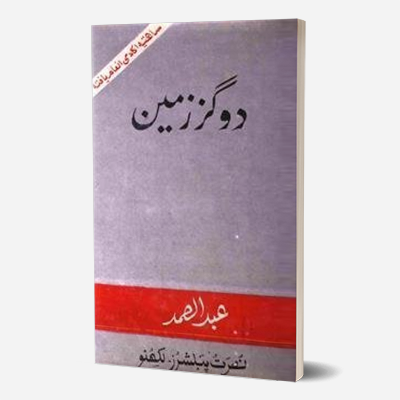 Do Gaz Zameen
By Abdus Samad
Do Gaz Zameen deals with the politics, communal violence, mass displacement and human suffering, as triggered by the partitions of the Indian subcontinent (first of India in 1947 and then the Indo-Pakistan War of 1971-1972 which led to the creation of Bangladesh) and depicts its devastating impact on the declining Muslim feudal family of Bihar Shareef, roughly from the 1920s to the 1970s. The novel is significant for its characterisation, its lucidity of style and portrayal of problems. For its perception of cultural identity as shaped by emotional, intellectual and historical compulsions, this novel is regarded as an outstanding contribution to Urdu literature. It received the Sahitya Akademi Award in 1990 and has been translated into 21 languages.
About the Author
Abdus Samad is known less as a teacher of political science and more as a famous Urdu fiction writer. Starting his literary career with short story writing, he later began writing novels. All five of his novels are accounts of the politics of twentieth-century Bihar.
Also read
Khwabon Ka Savera
Translated into English as Dawn of Dreams by Ms. Mehr Afshan Farooqi
The collapse of the Zamindari system in free India pushes Khan Bhadur Zamiruddin's aristocratic legal heirs to the brink of penury. Set in the post-Partition period, this novel highlights the precarious situation when patriotism and idealism fail to inspire a power-hungry, materialistic society in which families are fragmented by an inheritance of suffering. Samad's novel, like almost all other fictionalized accounts of the partition, disrupts the grand historical narratives and locates itself in contradiction to the communalized narrations of the formation of Pakistan, first offered by the Muslim League and then reinforced by various Hindu fundamentalist organizations.