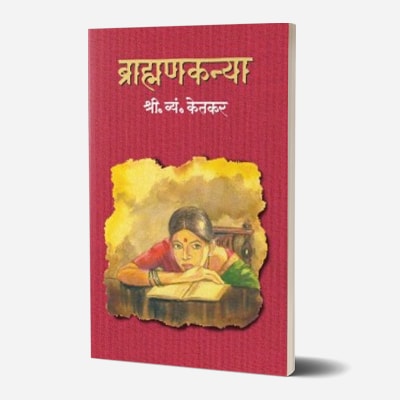 Brahmankanya
By Shridhar Venkatesh Ketkar
In a society that sees exclusion as power, the more people you exclude the more powerful you feel. Our laws and even the shastras say that it is the father's blood and not the mother's that determines the children's caste. But social practice says otherwise. This classic Marathi novel was devised to demonstrate this fact. The good-looking, educated Shanta, daughter of Manjula, a Pune Brahmin's low-caste mistress, is advised by her well-wishers to convert to Christianity if she wishes to marry; for she will forever be stigmatised in Hindu society. A young progressive Brahmin lawyer of Pune decides such extreme measures are not necessary. He will marry Shanta and make her 'respectable'.
All is well till their daughter Kalindi reaches marriageable age. That's when her father comes crashing down to earth from his moral heights. No young Brahmin is ready to accept Kalindi's hand in marriage. The embittered Kalindi flings her father's 'noble' action in his face. "Who can say today whether you married my mother out of genuinely generous intentions or to acquire fame as a progressive," she fumes. "Even if it was an act of generosity, fact is that it did not harm you. It has harmed your children. You are still a Brahmin. But we are not."
With this, Kalindi commits social hara-kiri. She leaves her parents' home to live as the mistress of Shivsharanappa, a Lingayat tobacco merchant. Fortunately for her, the author was an optimistic believer in the possibility of social reform. The novel ends with Kalindi marrying a dynamic trade union leader of Bombay.
About the Author
Shridhar Venkatesh Ketkar was a sociologist, historian and novelist, hailing from Maharashtra, India. He is principally known as the Chief Editor of the first ever encyclopedia in Marathi, namely, Maharashtriya Jnanakosha.
Born in Raipur, Madhya Pradesh, Ketkar studied at the Wilson College, Bombay before he left for the United States in 1906, and obtained a Ph.D. from Cornell University in 1911. After a yearlong sojourn in London (circa 1912) where he met his future wife Edith Kohn, he returned to India.
Ketkar wrote quite a few novels in Marathi, including the Gondavanatila Priyamvada Ani Gharkutte Gharanyacha Itihas (1926), Ashavadi, athava Eka Pravahapatiteche Charitra (1927), Gaavasasu (1930), Brahmanakanya (1930), Bhatakya (1937) and Vichakshana (1937). Broadly, Ketkar's work could be called as 'novels of ideas', as they contained information about various tribes and societies, coupled with several strikingly blunt ideas about sociological reform.