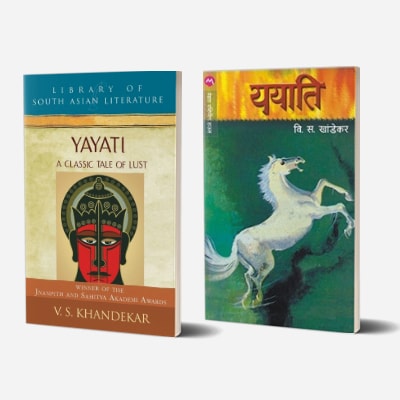 Yayati
By VS Khandekar
Translated by YP Kulkarni
Based on the Mahabharatha character Yayati, this Marathi novel is a story of insatiable lust. It is the story of a noble ruler who was even respected by The King of Gods, Indra. Married to the cunning and beautiful Devyani but in love with her maid Sharmishtha, Yayati goes on a quest for carnal pleasure, even exchanging his old age for his son's youth.
An exploration of human tendencies and the intersection between individual and social existences, Yayati presents to us a universal tale on the consequences of acting upon certain tendencies.
The novel is probably best summarised by its concluding lines: "Oh man, desire is never satisfied by indulgence. Like the sacrificial fire, it ever grows with every offering." VS Khandekar was awarded the prestigious Jnanpith and Sahitya Akademi awards for this novel.
About the Author
Vishnu Sakharam Khandekar (1898-1976) is one of the greatest Marathi authors. He worked as a teacher and wrote with the aim of bringing happiness to his readers and reducing inequality amongst people. A former President of the Marathi Sahitya Sammelan, he was a Fellow of Sahitya Akademi. In 1968, he was awarded the Padma Bhushan for his contribution to literature. Khandekar is best known for his magnum opus Yayati.