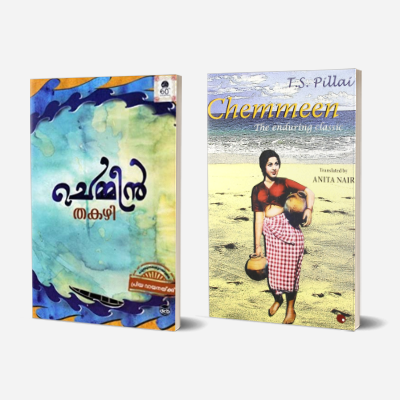 Chemmeen
By Thakazhi Sivasankara Pillai
Translated into English by Anita Nair
First published in 1956, Chemmeen tells the story of the relationship between Karuthamma, the daughter of a Hindu fisherman, and Pareekkutty, the son of a Muslim fish wholesaler. Unable to live with the man she loves, Karutthamma marries Palani, who, despite the scandal about his wife's past, never stops trusting her, a trust that is reaffirmed each time he goes to sea and comes back safe since the sea-mother myth among the fishing community along the coastal Kerala state in the Southern India is that the safe return of a fisherman depends on his wife's fidelity. It is to perpetuate this myth that Thakazhi wrote this novel. The lives of the people at the water's edge, their culture, traditions, and superstitions were dear to him and this manifested in Chemmeen. Thakazhi made a departure from his vowed commitment to realism as it appeared in his works till then. He brought in a fresh breeze of lyricism and romanticism. The novel acquires the quality of a fable in which life in the fishermen's community is depicted with great emotional detail. This hugely successful novel was adapted into a film of the same name, and won critical acclaim and commercial success. It became the first Malayalam novel to win the Sahitya Akademi Award (1957) and was translated into more than 50 languages.
About the Author
Thakazhi Sivasankara Pillai (1912 -1999), popularly known as Thakazhi after his place of birth, was an Indian novelist and short story writer of Malayalam literature. Pillai's literary works are known to portray the society in Kerala in the mid-20th century. His first short story was Daridran (The Poor) which was published in 1929. After many short stories, he wrote Thyagathinu Prathiphalam (Fruits of sacrifice) in 1934 which primarily dealt with the social injustices prevalent during that time. This was the first of his 39 novels; he also published 21 anthologies composed of over 600 short stories, two plays and four memoirs.
Also read
Kayar
The epic novel is set in Kuttanad, traces the evolution of the central Travancore society from the early 19th century to the mid-twentieth century. It covers more than two centuries of Kerala life, encompassing six generations of characters. The historic transformation of man's relationship with land, as also between man and man, men and women and even man and God, forms the staple theme of Kayar. It won the Jnanpith Award in 1984.