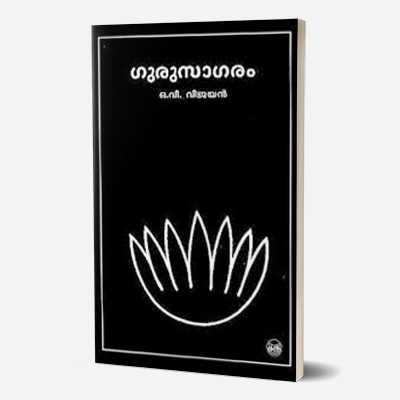 Gurusagaram
By O. V. Vijayan
The novel is a spiritual odyssey into the human psyche. Gurusagaram differs in language, vision and characterisation from Vijayan's earlier works. It explores the theme of the immanence of the Guru in every human encounter. The central character Kunjunni is a journalist from Kerala, working in Delhi, going on an assignment to report the Bengal partition of 1971. He undergoes an excruciating experience both spiritually and physically to learn how to annihilate all forms of ego. The novel dramatizes the sorrow of a broken family and delves into the meaning of relationships and human loneliness through memories, meditations and conversations. According to Vijayan, this novel was greatly inspired by the teachings of Karunakaraguru of Sree Santhigiri Ashram near Thiruvananthapuram. Vijayan underwent a spiritual transformation after meeting the guru and this change also reflected in his writings, the best example being Gurusagaram.[It won many major awards including the Kendra Sahitya Akademi Award (1990), Kerala Sahitya Akademi Award (1990) and Vayalar Award (1991).
About the Author:
Ottupulackal Velukkuty Vijayan (2 July 1930 – 30 March 2005), commonly known as O. V. Vijayan, was an Indian author and cartoonist, who was an important figure in modern Malayalam language literature. Vijayan was the author of six novels, nine short-story collections, and nine collections of essays, memoirs and reflections. His first novel, Khasakkinte Itihasam appeared in 1969. It set off a great literary revolution and cleaved the history of Malayalam fiction into pre-Khasak and post-Khasak.

Also read:
Dharmapuram
Translated into English as The Saga of Dharmapuram by the author himself
Published as a book in 1985, Dharmapuram is a savage political thriller which recalls Swift in its fierce loathing of what politics has made of India, and Voltaire in its outrageously hilarious ridicule of public postures and ideological pretensions. After the English translation made its appearance in 1987, Khushwant Singh had said of the book, 'Not the kind of novel you forget in a hurry' while the Times Literary Supplement referred to it as 'dangerous stuff and cut to bone.' Vijayan himself described the act of writing Dharmapuram as a process of 'cleansing' one he does not wish to repeat.

Mathuram Gayati (Sweet is the Music)
Published in 1990, Mathuram Gayati (Sweet is the Music) is an extended allegorical fable of a post-holocaust world where the two hemispheres of earth are apart and at war, and can onlu unite again through the harmonious, un-analysable power of love, which alone can bring together the divisive energies of the universe.