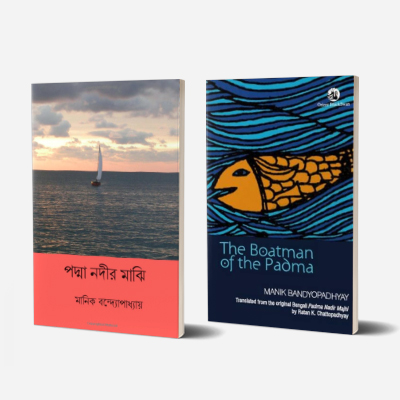 Padma Nadir Majhi
By Manik Bandyopadhyay
Translated to English by Ratan Kumar Chattopadhyay to The Boatman of Padma
In Padma Nadir Majhi (meaning 'The Padma River's Boatman', published 1936), Bangla author Manik Bandyopadhyay moulds together an examination of class, corruption, and poverty. Chronicling the experiences of a fisher community on the embankment of the River Padma, this novel is made memorable by the intricacy with which it delves into the lives of its protagonist Kuber and his forbidden love with Kapila, his sister-in-law. The novel was transferred to celluloid in 1993.
The novel remains relevant for its discussion of class politics but remains timeless for its engaging and emotional narrative.
About the Author
Prabodh Kumar Bandyopadhyay (1908-1956), best known by his pen name 'Manik', is often called the founding father of modern Bangla fiction. He wrote over forty two novels and two hundred short-stories in his short life, which was plagued with ailment and poverty. Putul Nacher Etikatha and Chatushkone are two of his distinguished works.