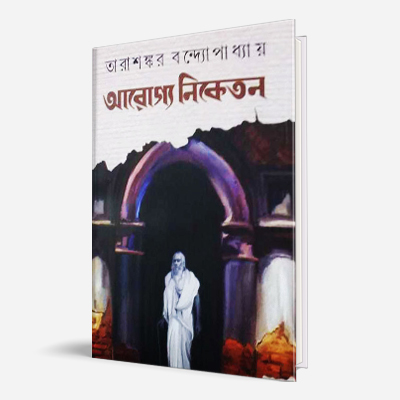 Arogya Niketan
By Tarashankar Bandopadhyay
Arogya Niketan (House of Good Health) follows the life of Jeevan Masai, an aging man living through the emergence of a modern order to traditional life in his village in Birbhum. Considered to be one of the most compelling psychoanalytic representations of old age written at the time, Masai is shown as subjecting himself to relentless self-examination, through memories of his devotion to his father, his current role as the aging patriarch, his bitter marriage, his role as a physician trained in Ayurveda contesting with the newly-arrived, allopathic medicine. Despite the subject matter dealing so heavily with the clinical discussions with sickness and death, Bandyopadhyay transforms these discourses into the poetic, portraying how the constant fear of death and generational replacement gnaw at the deepest layers of human consciousness. According to literary critic, NE Sudheer, "Arogya Niketan is perhaps the best contribution that India has made in this category of novels that deal with death", and ranks the novel among Tolstoy's The Death of Ivan Ilyich and Herman Broch's Death of Virgil. The book received the Sahitya Akademi Award and Rabindra Puraskar in 1956.
About the Author
Tarasankar Bandyopadhyay (1898 -1971) was a novelist and activist. He was involved in the Indian Independence movement, as well as in later Bengali politics, and vigorously pushed for social reforms. He wrote extensively during this period, often reflecting these experiences in his 65 novels, 53 storybooks, 12 plays, 4 essay-books, 4 autobiographies, 2 travel stories and music compositions. He also directed a Bengali feature film, Amrapali in 1959. Tarasankar's works were very well-received in his time; he received the Padma Shri (1961), Padma Bhushan (1969) and Sahitya Akademi Fellowship (1969) for his contributions to Indian Literature.
Also read
Ganadevta
Ganadevata (God of the Masses) was published in 1942. Set in the 1920s rural Bengal, the novel is an empathetic portrayal of the lives of Indian villagers. The story revolves around some lower-caste villagers denying to do the dehumanizing and unsustainable labour that is imposed on them due to their hereditary status, and choose to set up their own cooperative mill separate from the village. This ignites furor amongst the upper-caste villagers and becomes the center point of debate and anxiety in their lives. Bandopadhyay masterfully portrays how the tenets of the traditionalist casteist discussion change due to the influence of new ideas, namely from Yatin Babu, a freedom fighter with abolitionist ideals, Debu—the urban intellectual with modernist aims but disconnect with rural lives, and Durga, the Chandal prostitute who encourages Debu to fight for emancipation in the village. He also displays how these movements for reform also face violent suppression, but he ends the story optimistically as a sign of the possibility of change. When it won the Jnanpith in 1966, it was called by the editor "one of the best books ever written".
Hansuli Banker Upakatha
Set against the colonial depredations of the 1939–45 war and the oppressions of an agrarian caste system, Tarashankar Bandyopadhyay's novel Hansuli Banker Upakatha (translated as The Tale of Hansuli Turn by Ben Conisbee Baer, 2011) depicts a difficult transition in which Kahars, inhabitants of Hansuli Turn, a forest village in Bengal, who belong to an untouchable "criminal tribe", fragment and mutate while struggling to grapple with the loss of their culture within a revolutionized society as local and global forces infiltrate their lived realities. Lyrically rendered by one of India's great novelists, Hansuli Banker Upakatha provides riveting insights into the dilemmas of rural development, ecological and economic exploitation, and Dalit militancy that would occupy the center of India's post-Independence politics. In 1946, the novel first appeared in a shorter version in a special annual Durga festival issue of Anandabazar Patrika and was adapted into a Bengali film of the same name by Tapan Sinha (1962).
Tarashankar Bandyopadhyay, in Hansuli Banker Upakatha, states that happenings on the bank of Kopai embodied history itself: "Small rivulet of stories (Upakatha) has joined the great river of tales."