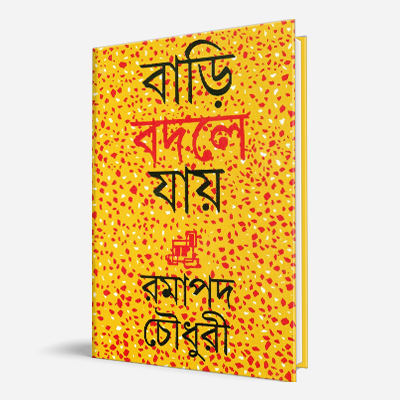 Bari Bodle Jay
By Ramapada Chowdhury
AWARD: Sahitya Akademi (1988)
Bari Bodle Jay has, at its centre, Dhrubo and Preeti, a couple who live in a joint family in a rented house in south Calcutta, near Kalighat on Harish Mukherjee Road, but dream of having their own space in the city. They look out for an apartment on rent and in the process realise how difficult it is to even get a small space for oneself in Calcutta, within their modest budget. Density and proximity are the two defining characteristics of urban spatial dimensions. And it is this facet of the urban space that results in categories like tenants and landlords that is explored in Bari Bodle Jay, which, also portrays the trials and tribulations of the urban dweller constantly on the move between different houses. The novel, which was based on Chowdhury's own experiences as a tenant, received the Sahitya Akademi Award in 1988.
About the Author
Ramapada Chowdhury (1922 –2018) was a Bengali novelist and short story writer. Chowdhury started writing during the Second World War. He was associated with Anandabazar Patrika for many years, and edited its Sunday supplement. In all, he has written around 50 novels and over 100 short stories. He has also edited an anthology of stories originally published in Desh.  He was conferred the Sahitya Academy award for Bari Bodle Jay in 1988. Among the other awards that Chowdhury won were the Rabindra Purashkar for 'Ekhoni, and the Ananda Purashkar. Chowdhury believed that "quitting is an art" and decided to retire from writing—an unprecedented feat in the Bengali literary space. He went back to being a reader, as he had started out, leaving his mark as one of the very few writers who cast a dispassionate but probing eye on human weaknesses and the fault lines of society.
Also read
Banpalashir Padabali
Chowdhury's biggest breakthrough came with the novel Banpalashir Padabali (1960)—based in rural Bengal—which was serialised in the prestigious literary Magazine Desh and this found hundreds of thousands of readers every week. The novel, which dealt with the tensions between two brothers, when one of their daughters married a government employee, won the Rabindranath Tagore Memorial International Prize and earned Chowdhury a permanent place among the pantheon of popular and revered Bengali writers. It was made into a film by the Bengali cinema megastar Uttam Kumar (1973), who directed as well as starred in it.
Abhimanyu
The story of Abhimanyu (1982) was based on the life and work of scientist Subhas Mukhopadhyay, who created India's first and the world's second test-tube baby in 1978. Subhash Mukhopadhyay was ostracised for his research in in-vitro fertilisation by the government, and eventually committed suicide. Based on the story, director Tapan Sinha made Ek Doctor Ki Maut in 1990, which went on to win several awards. The film, inspired by this true story, deals with the complications and "many pitfalls that are created by a lethargic political administration and depicts the lack of infrastructural support to Indian scientists with heart-breaking insight."
Je Jekhane Danriye
Je Jekhane Danriye was first published in the Sharadiya 'Desh' in October 1972 and later published as a book. It has been translated into English as 'Second Encounter' by Swapna Dutta and published by Niyogi Books. The novel narrates the story of Anupam, a middle-aged professor with a meagre income, who was taking a vacation with his family in a little-known mining town and his chance encounter with his childhood love interest which turns their lives upside down. The novel, while exploring the myriad shades of love, compels its readers to confront and introspect on some fundamental questions—How deep and dependable is unspoken and unfulfilled love? Does physical proximity necessarily bring one closer? Do values and outlooks change when one considers one's children? What is love's ultimate goal?" The novel was made into a critically acclaimed film in 1974 and broadcast as a radio play by All India Radio.