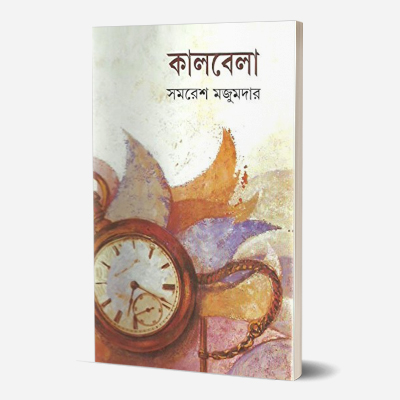 Kalbela
By Samaresh Majumdar
AWARD: Sahitya Akademi (1984)
Kalbela is part of the Animesh quartet. The principal character of the series is Animesh Mitra who, much like the author himself, grows up amid the tea estates of the Dooars in northern Bengal, but then moves to Kolkata in the 1960s in order to study at Scottish Church College. Animesh then plunges into the Naxalite rebellion that rocked West Bengal in the late 1960s and 1970s. Through the character of the protagonist, Majumdar portrays the tumultuous political history of West Bengal in the post-independence era. Kalbela was serialized in the prestigious literary magazine Desh in 1981-1982 and adapted into a film by the director Goutam Ghose in 2009. According to the academic Amaresh Datta, "the strength of the work can be seen in its configuration of relationships on various levels and a search for meaning through them… [It] is a novel of love and realization—love of life and the realization that this life is perennially explorable."
About the Author
Samaresh Majumdar is a versatile writer though many of his novels have a touch of thrill and suspense attached to them which is noticeable in his novels like Aath Kuthuri Noy Daraja, Bandinibash, Daybadhha, Buno Haansher Palak. His first novel Dour was published in 1976. Being a prolific writer who has excelled in different genres, Samaresh Majumdar has worked upon short stories, novels, travelogues, and children's fiction. He has written more than sixty novels and over one hundred fifty short stories. Some of his remarkable novels include Saatkahon, Tero Parbon, Ujan Ganga, Swapner Bazaar and Kolikatay Nobokumar. His quartet of Uttoradhikar, Sahitya Akademi Award-winning Kalbela, Kalpurush and Moushalkal are now considered modern classics, and many of his novels have been adapted into major Bengali movies as well. From the tea gardens of the Dooars to the core of the concrete jungle of the city life, his characters and stories have diverse shades and depth and have won a special place in the hearts of the readers.
Also read
Kalpurush
Originally published in 1985, Samaresh Majumder's Kalpurush is the last of the famous Animesh trilogy, which is widely regarded as Samaresh Majumdar's finest work, as well as one of the most significant works of modern Bengali literature. The sequel to the Sahitya Akademi Award-winning Kalbela, this riveting novel explores the conflict of Arko, the son of Animesh and Madhabilata, who tries to strike a balance between the idealism of his parents and the harrowing forces of consumerism which subsume his life.
Arjun Series
Arjun is a fictional young adventurer-detective hero, created by Samaresh Majumder, who hails from Jalpaiguri of West Bengal. Arjun's mentor is retired official cop Mr. Amal Shome, who makes him understand his true calling. Although Arjun himself solves the cases but mostly works as the assistant of Shome. As the series evolves, Arjun matures, unlike adult detectives who are already evolved. Samaresh Majumdar, who uses the enchanting north Bengal terrain as a backdrop in his novels, bases the young detective Arjun in the same region. It gives his detective fiction a kind of charm that is missing in most city-centric writing. Kalimpong e Sitaharan was the first Bengali film based on Arjun. Books from the Arjun series include Khutimari Range, Khunkharapi, Arjun@beep beep dotcom, Khiljir Guhay Arjun and many more.
Another Outsider
(translated into English by Manojit Mitra and published by Bee Books)
The protagonist Shahin is one of those many boys from rural Bangladesh who make up for the thousands of illegal immigrants of the US. He travels to the US with a theatre company to perform for Bengali associations in several cities. Finally, instead of returning with his team, he stays back, literally dissolving in the multitude of those who seek their fortune in the US while all the time running from the police. Like most such boys, Shahin joins a restaurant that employs illegal migrants because they come cheap. His only aim is to save enough money so that he can send money back home to his aged parents, who dream of repairing their doddering house. Playing hide and seek with the police, Shahin soon finds himself working for a transport company but again gets too close to the police. Finally, luck favours him and Shahin gets a green card that enables him to visit home. But things are not the same anymore. He is now just another outsider.