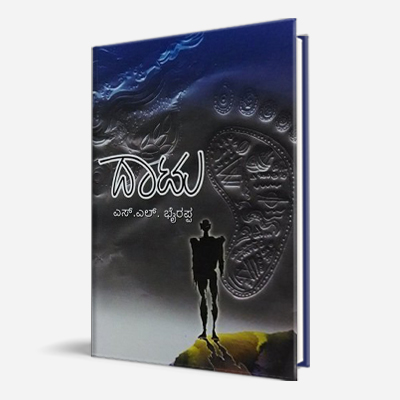 Daatu
By S.L. Bhyrappa
Written in the early 70's with a backdrop of much debated caste system that was deep rooted in the country, Daatu was way ahead of its time. The intricate explanation and detailed narration of the different castes and cultures is a shellshock experience for the readers. It explores the social, political and economic conditions of that time, with the subject of the story being an inter caste marriage between a Brahmin girl and a Gowda boy. It received the Sahitya Akademi Award in 1975.
About the Author
Santeshivara Lingannaiah Bhyrappa is widely regarded as one of modern India's foremost novelists. His novels are unique in terms of theme, structure, and characterization. He has been among the top selling authors of Kannada language. He has been awarded with the 20th Saraswati Samman for 2010. Bhyrappa's works do not fit into any specific genre of contemporary Kannada literature such as Navodaya, Navya, Bandaya, or Dalita, partly because of the range of topics he writes about.
Also read
Anchu
Translated into English as Brink by R. Ranganath Prasad
It recounts the love saga between Somashekhar, a widower, and Amrita, an estranged woman. The novel deliberates on the moral, philosophical, and physical aspects of love between a man and a woman. At the core of the story is compassion, and Somashekhar is the very personification of compassion. He brings love and warmth into Dr. Amrita's melancholic life. But time and again, she loses her temper and undergoes swift mood changes. In such times, she inflicts pain and torture on Somashekhar in spite of his sincere love for her. Will Somashekhar be able to help her overcome depression by his perseverance and sacrifice? An enthralling read, the novel has stood the test of time like Bhyrappa's other novels. Packed with internal drama, tension, and flashbacks, the book promises to impart an aesthetic experience to the reader.
Mandra
Translated into English by Dr. S. Ramaswamy and Smt. L.V. Shantakumari
Mandra, the Saraswati Samman winner for 2010, is one of the most acclaimed epic novels of Bhyrappa. Though it takes its theme from the classical question of art versus morality, many more subtle and complex issues haunting human life are marvellously interwoven. Rooted deeply in the harsh realities of the world, the governing theme evolves like a banyan tree in all directions and pictures many home-truths that are inseparable with art, artist, art-tradition, art-criticism and the world of connoisseurs.