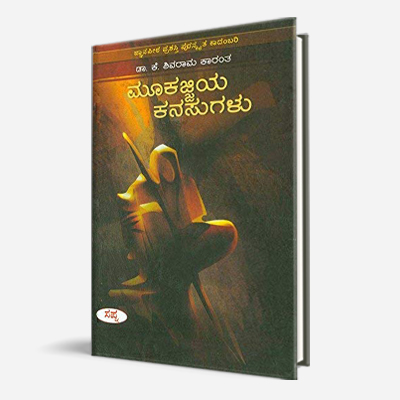 Mookajjiya Kanasugalu
By K. Shivaram Karanth
Mookajjiya published in 1968, is a Kannada epic novel. The name of the novel itself is interesting as when translated, it reads as 'Dreams of Silent Granny'. Set in a village called 'Mooduru', the novel revolves around two main characters: Mookajji and her grandson Subbraya. Subbraya represents the doubts raised in human beings about the god and other traditions. Mookajji is a widow aged about 80, who lost her husband at the age of ten. The character of grandmother in this book has got some supernatural powers of telling the truth about the things that are going to happen and those which have already happened. It received the Jnanpith Award in 1977.
About the Author
Kota Shivaram Karanth (1902 –1997) was an Indian polymath, who was a novelist in Kannada language, playwright and conservationist. Ramachandra Guha called him the "Rabindranath Tagore of Modern India." He wrote, apart from his forty-seven novels, thirty-one plays, four short story collections, six books of essays and sketches, thirteen books on art, two volumes of poems, nine encyclopaedias, and over one hundred articles on various issues. His magnum opus Devaddhootaru, a satire on contemporary India, was published in 1928.
Also read
Sarasammana Samadhi
Translated into English as A Shrine for Sarasamma by Dodderi Aswathanarayanarao Shankar
Written by K Shivarama Karanth in 1937, in his early thirties, this novel is a classic in Kannada. It offers one of the most authentic and searing accounts of Indian womanhood, which consistently, and through the ages, has suffered deep anguish, humiliation and crushing insult from the oppressive patriarchal culture prevalent in all parts of India and among all castes and classes.
Marali Mannige
Translated into English as Return to Earth by Padma Ramachandra Sharma
It is the story of three generations of an agrarian Brahmin family living in a village by the sea, spanning a period of almost six decades. In this long period of time, several changes take place impacting both life and living. Karanth portrays the coming of several modernities and curiously watches the manner in which his characters respond. In what can be called a dense interlacing, Karanth juxtaposes the outer world with the inner texts of his characters. By setting his novel against the backdrop of society in flux, Karanth creates a powerful context and location for his characters, while dislodging them from it too. For him, it is essentially the study of human nature –he extols its beauty and condemns its vileness. He describes the picturesque grandeur of the physical landscape, but his inclination is in exploring the human conscience itself. Without the ponderous bearing of a social commentator, he tells the story of Marali Mannige with a simplicity that's hard to achieve.