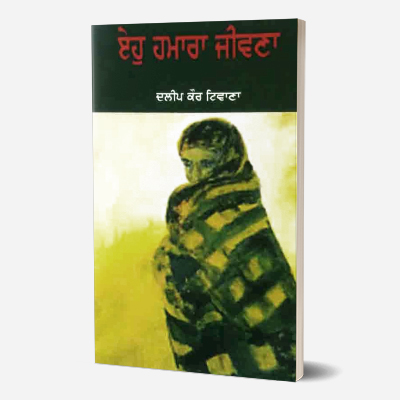 Eho Hamara Jeevna
By Dalip Kaur Tiwana
Rooted in the socio-cultural ethos of the erstwhile princely state of Patiala, Tiwana's novels addressed questions of loneliness, rootlessness, cultural alienation and the unrecognized longing for an anchoring in the stability of the past. Her writing on strong feminist themes against the backdrop of different caste and economic backgrounds was a significant development in post-Partition Punjabi writing. In Eho Hamara Jeevna, the protagonist is Bhano, a poor woman belonging to a farmer family in the rural areas of Punjab. In her village, women were treated as commodities and sold for very little money. Bhano's father married her off to Sarban from Moranwalli village. After her marriage, Sarban's four unmarried brothers and friends sexually abuse and harass her. After Sarban's death, Bhano's life becomes more miserable and her father tries to sell her once again. Bhano tries to escape by committing suicide. A man named Narain saves her and accepts her as his wife. Due to the circumstances and patriarchal setup in her society, Bhano fails to fulfil even her simplest goals in life. The novel won the Sahitya Akademi Award in 1971.
About the Author
Named among the few distinguished women litterateurs of contemporary Punjabi literature, Dr. Dalip Kaur Tiwana was a prolific novelist and short-story writer. She has won awards, both regional and national, and is a widely translated author. The first woman lecturer at Punjabi University, Patiala and the first to return the prestigious Padma Shri Award, Tiwana has been described by Kartar Singh Duggal as a writer who was 'rooted in the soil, her own tradition and folklore, economic exploitation of and the social curbs inflicted upon the other sex in society in the Punjab.' Some of her distinguished literary works include Peele Patteyan Di Daasta, Nangey Pairan Da Safar, Duni Suhava Bagh and many more.
Also read
Lang Gaye Duniya
Translated into English as Gone are the Rivers by Bhupinder Singh and S.C. Narula
First published in Punjabi in 1990, Lang Gaye Duniya was translated as Gone are the Rivers by Bhupinder Singh and S.C. Narula. Interweaving social history and ethnography and fiction from a feminine perspective, the novel deals with an offbeat subject that is spontaneous, lyrical and compressed to the point of being a marvel of economy and elegance. It narrates the story of the Royal Counsellor to the Maharajah of Patiala and his family—used to the trappings of court in a feudal society and unquestioning subservience to 'family honour'—and how overwhelmed by changes in the newly-independent nation, they eventually meet with tragic consequences.