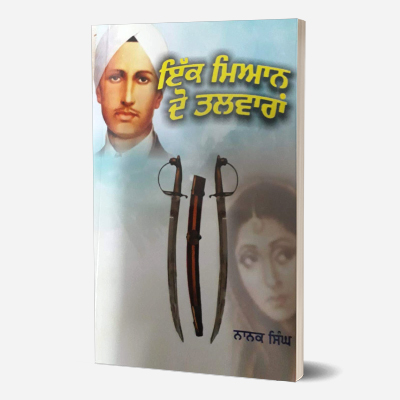 Ik Miyan Do Talwaran
By Nanak Singh
The historical novel is set in Haranpur village, now in West Pakistan. The story revolves around the revolutionary movement of 1914-1915 which attracts Sudarshan and Biri, children of Baba Sukhdev Singh Sodhi, a resident of the village. The influence of literature written by revolutionaries on the young minds and the attraction that Biri feels towards Kartar Singh Sarabha, one among the many revolutionaries, navigates the plot of the novel further. Sarabha's death, the failed revolution and the revenge taken by Biri ties the end of the novel. The unusual relationship between Biri and Sarabha charged by political spirit and revenge stands out. It won the Sahitya Akademi Award in 1961 and has been hailed as an outstanding contribution to Punjabi literature for the depth of treatment and realistic characterisation.
About the Author
Widely regarded as the father of modern Punjabi novel, Nanak Singh wrote an astounding fifty-nine books, which included thirty-eight novels and an assortment of plays, short stories, poems, essays and even a set of translations. He gave a new turn to Punjabi short story, investing it with pace and finesse. Romantic love and social criticism are the recurring themes in his writings. Gandhian idealism pervaded Singh's fiction and reflected his strong support for India's independence movement which also led the British to arrest him.
Also read
Adh Kidhiya Phool
Translated as A Life Incomplete by Navdeep Suri
All that sustains Kuldeep Singh through his dark days in jail, where he is serving a term for participating in anti-British agitations, are thoughts of his beautiful wife and the dream of going home. But he returns to find that his wife has died, leaving behind their infant child. As his world collapses around him, he negotiates the divergent pulls exerted by people around him: a holy man who advocates renunciation; his childhood friend Saroj, who has always loved him; and the tempestuous Prakash who hides an unsavoury past. Sahitya Akademi Award-winning author Nanak Singh draws on personal experiences to create this compelling portrait of Punjab in the 1920s. Originally published in Punjabi in 1940, Adh Kidhiya Phool is an intense meditation on the choices people make and the consequences these may have. Singh's engagement with social issues like superstition and blind faith, religious bigotry, casteism and the emancipation of women seems as fresh and relevant today as it did when he wrote this book.