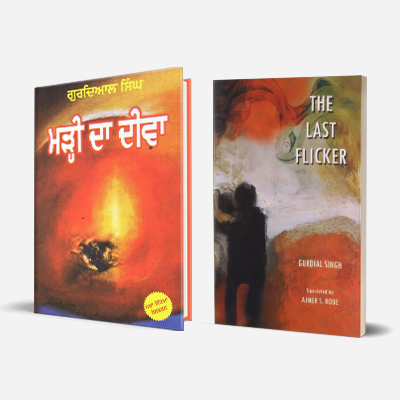 Marhi Da Deeva
By Gurdial Singh Rahi
Translated into English as The Last Flicker by Ajmer S. Rhode
The novel traces the trajectory of the havoc wrought in the lives of the lower caste protagonist Jagseer and his mother Nandi. His father has an affable bond with Dharam Singh. However, Bhanta Singh, Dharam's son does not have a friendly relationship with Jagseer. The ill-timed death of Nandi wrought by the oppressive operation of power exercised by Bhanta deteriorates the physical and psychological health of Jagseer. Also, he falls in love with the bride (Bhani) of his newly married friend Nikka. His inability to turn the secret love into a legitimized relationship pushes him down a path of self-pity and his addiction to opium hastens his ill-timed death. It won the Sahitya Akademi Award in 1975.
About the Author
Gurdial Singh Rahi was a Punjabi language writer, novelist and Migration Agent from Punjab, India. He started his literary career in 1957 with short stories. He became known as a novelist when he published the novel Marhi Da Deeva in 1964. Singh was honoured with the Padma Shri in 1998 and Jnanpith Award in 1999.
Also read
Anhey Ghore Da Daan (1976)
Translated as Alms in the Name of a Blind Horse by Rana Nayar
It portrays the plight and problems of Punjabi farmers, rural working class, as well as the landlords. The landlord sells his plots to an industry that demolishes the house of one of the villagers who refuses to vacate it. The focus shifts from family to family, and from character to character as the inner billings of a village on the verge of being gulped by industrialists has begun to take its toll within, despite the inhabitants. The novel won the Jnanpith Award in 1999 and was also adapted for film (2011) by Gurvinder Singh.