September 11, 2019
Shanta Gokhale
Goodbye, my dear friend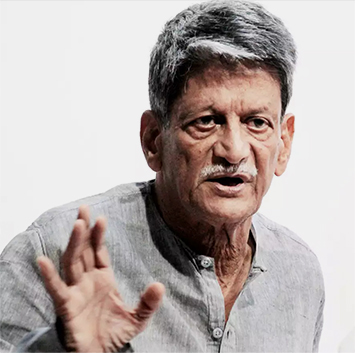 We met in 1965, remember? In the MA English Literature class, taught by many luminaries, among whom the most brilliant were Nissim Ezekiel and Dr RB Patankar. You and Yasmeen Lukmani and I would traipse over to Dr Patankar's room in the university building at Fort to hang around. That's what it was. Hanging around, with cups of tea, and Dr Patankar sitting across the table, his fingertips together, and a characteristic half- smile lighting up his face. Often Dr MP Rege dropped in too, and our debates rose to some other level. How we argued. We were allowed to do that in those glorious days when ideas could be freely exchanged and challenged. You once said to me, "I wonder how you would look with your mouth shut."
I could have said the same to you. We all talked too much, testing our ideas, revelling in new ones that the professors so generously shared. Dr Patankar and Dr Rege both wrote incisive blurbs for your first novel, Saat Sakkam Trechalis.
Years before it was published, you had called me. Come and spend the day at my place you had said. You had sounded secretive. When I arrived, you took me directly to your writing desk. You pulled out the chair for me. You said, "Sit and read this. I'll give you lunch. Then you can go back to it." "This" was a sheaf of some hundred pages of Saat Sakkam Trechalis. I'm not sure the title was in place, but everything else was. I was bowled over by what I read. Was it a novel? I didn't know. You didn't know. But it showed signs of being one.
Saat Sakkam Trechalis was a tough novel to write and an equally tough one to read. I was teaching at HR College when it was published. You stood outside the staff room door beckoning to me. You were distressed. Nobody had reviewed the book. Could I please? You had already talked to the editor of a mainline daily who had agreed to carry the review. When it was published, Kumar Ketkar wrote a letter to the editor telling us both off for being so "bourgeois" and "out of touch with things that really mattered". He was at IIT then and an already fullblown or blossoming Marxist.
Years afterwards your cousin Shobha offered to translate the novel. She had already done two drafts. Both had left you dissatisfied. You came to me with the third. For seven days we sat together going through her translation word by word, phrase by phrase. It is a good translation, I said. You sighed the sigh of every author who finds the translation of his work not quite there. But it can't be Kiran, I argued. Language isn't a neutral medium. A language brings in its own tonalities. You sighed again, but called it a day. Shobha was taken off the hook, the translation was published and you and Tulsi gave me a lovely doria sari, which I wore for years afterwards.
Those were years when the cultural agencies of Britain, America and Germany held interesting seminars and book discussions. We were invited to one such discussion with the American theatre director and critic Harold Clurman. Mahesh Elkunchwar was also there. The participants were seated in two rings round an oval table. You and I were in the outer ring. In front of us in the inner ring was Pearl Padamsee. In the course of the debate you got very agitated and wanted to have your say. You took a long stride over the inner ring to grab the mike on the table, creating in the process a bit of slapstick comedy, which left everybody bemused. First, in your lunge for the mike, you dropped your chappal in Pearl's lap and then went on to express yourself at great length in a mumble that nobody understood. Forty years on, I still felt a trifle nervous when you got up to speak at a St Xavier's College seminar. But I needn't have worried. For by then you had become an international figure and learnt that the first step to being understood was to open your mouth when you spoke. Your speech that day was brilliant.
Like Dilip Chitre, Arun Kolatkar and many of us back then, you were bilingual. Your next book Ravan and Eddie was in English. Nobody else writing in English could have given us such a consummately tragi-comic view of chawl life. Indo-Anglian writers did not know the Bombay you did, nor did they have your inimitable way of looking at life and its absurdities. No wonder you made it your mission in recent years to fight for the health of the BEST bus service. The BEST bus was uniquely Bombay. Your Bombay.
Your wit was always irreverent, and bawdy to boot. I remember the first reading of your play Bedtime Story at Dr Shreeram Lagoo's place in Worli. Nothing like it had ever been written for the Marathi stage before. We laughed uproariously. We loved the wit, the crazy ideas, the tremendous scope it would give to directors and actors. But no directors and actors were forthcoming. The Marathi stage, even the experimental variety, tucked its tail firmly between its legs and fled. Did you learn your lesson from that experience? I wish you hadn't. Because the play you wrote after the destruction of the Babri mosque had neither the delicious surprises nor the wit of the first. Rekha Sabnis put a lot of life into her production of it, but it still didn't work. I told you so and you were hurt. Even offended. But perhaps I was forgiven when I loved Cuckold and said so in black-and-white.
The last book I read of yours was God's Little Soldier. It was perhaps your first book to be panned. You were distraught. You asked me to write about it and I did. A book that large might not work as a whole, but might have large chunks that do, illumining the whole. I found many such in the book and wrote about them showing how the novel could be read through them.
After that I lost track of your work. We continued to meet on and off at various events. The last time we met was at Darryl D'Monte's funeral, in March this year. We grieved over his going and recalled the time when he and I were putting together a special issue of the Times of India devoted to Bombay in commemoration of the newspaper's sesquicentennial, in 1998. Among the writers we had invited to contribute to the issue was you. You did what only you would have done. You sent us an essay about Mumbai's lepers. Darryl was horrified. We can't use that in a celebratory issue he said. I returned the essay to you with great regret. You were not amused.
A #MeToo cloud was hanging over you when we met. I couldn't pretend it wasn't there. As a friend I had to hear what you had to say. You didn't know what had hit you. You defended yourself with conviction. I reached for your hand and held it tight. I am happy that, for once, I allowed the friend rather than the critic in me to respond. The body memory of our clasped hands consoles me now.
Shanta Gokhale is an acclaimed novelist, playwright, translator, critic, columnist and theatre historian.

The above tribute was originally published in The Mumbai Mirror on Saturday, September 7, 2019