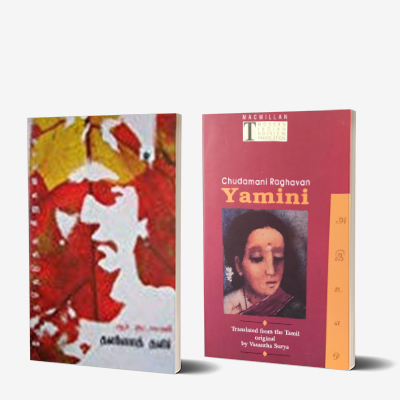 Iravuchchudar
By R. Chudamani
Translated into English as Yamini (1996) by Vasantha Surya
Set in Madras spanning a period of twenty years between the 1950s and the 1970s, Chudamani explores the mystery of the human mind, and its essential solitariness with unobtrusive passion in this novel. It chronicles the story of Yamini, who loved nothing better than solitude and felt a deep oneness with nature till the brink of being labeled as a recluse. Despite the ban imposed on child marriage by the Sharada Act of the late 1920s, Yamini is married off against her wishes and feels violated. She soon gives birth to a child, but even a daughter doesn't evoke a sense of tenderness into her being. With the fear of history repeating itself, Yamini's mother is worried about Geetha who is completely unlike her mother but equally distraught. A story spanning three generations, it also traces how the conservative views on marriage changed overtime allowing Geetha to assert her wishes and be respected for them, breaking the vicious cycle that Yamini was a victim of.
This novel documents how every individual has a core, inner life and to violate this core of privacy is to set off a kind of cataclysm within the mind. Because of the nature of human relationships, that cataclysm will raise relentless echoes in the lives of others.
About the Author
Chudamani Raghavan (10 January 1931 – 13 September 2010) was a novelist, short-story writer, and translator who wrote both in English and Tamil. Born in Chennai, she was homeschooled due to a physical disability. She started her literary career in 1954 with the publication of Parisu Vimarsanam, a humourous skit that appeared in Dinamani Kadir, a Tamil weekly. The core concern of her stories remained until the very end, human life as it is lived in the present day. Women in her stories emerge as characters bracing the strong winds of life, fighting and resisting and sometimes succumbing, painted in a lyrical and poetic language that caught the subtlest of emotions with ease and dexterity.