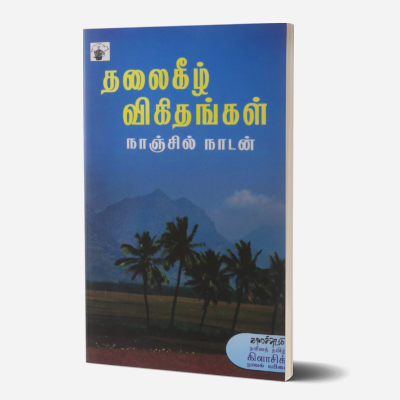 Thalaikeezh Vigithangal
By Nanjil Nadan
Thalaikeezh Vigithangal's protagonist Sivadhanu is a poor but educated villager on the lookout for a suitable job. An affluent man from a nearby town Chokkalingam is impressed with the young man and plans to groom him into becoming a businessman. He arranges for a wedding, makes him his son-in-law but Sivadhanu's self-respect does not permit him to take the slights at his father in law's place, lying down. He finds a job for himself and at this point, things turn awry. A story left with an open, interpretative ending, it is left to the readers to concur with the consequences of Sivadhanu's separation from his wife and an ideal life.
About the Author
Nanjil Nadan's first short story in Tamil titled, Viradham was published in N. Parthasarathy's Deepam in 1975. He has authored six novels, 112 short stories, two short story anthologies, five essay collections, and two poetry collections. Published in 1977, his first Tamil novel Thalaikeezh Vigithangal was an instant bestseller. In 2002, it was adapted into a movie Solla Marantha Kathai by Thangar Bachan. Later came novels such as Embiladanai Veyilkayum, Mamisapadaippu, Midhavai, Sadhuranga Kuthirai (1993) and Ettuthikkum Madhayaanai – this novel has been made into a Tamil movie called Padithurai. He won the Sahitya Akademi Award for his short story collection, Soodiya Poo Soodarka, in 2010.
Also read
Ettuthikkum Madhayaanai 
Translated to Against All Odds by Gita Subramanian
Falsely accused and hounded by the cruelty of the caste-ridden mores of a small village in the Kanyakumari District of Tamil Nadu, twenty-year-old Poolingam, a lowly potter by caste, runs away with no idea of where to go and what to do with his life. Ultimately, Against All Odds is a story of hope. Though cruelly torn away from the cocoon of his home and village and plunged into the searing realities of the even harsher world outside, Poolingam emerges not as a cynic but as a compassionate human being who still has the courage to love and give selflessly.