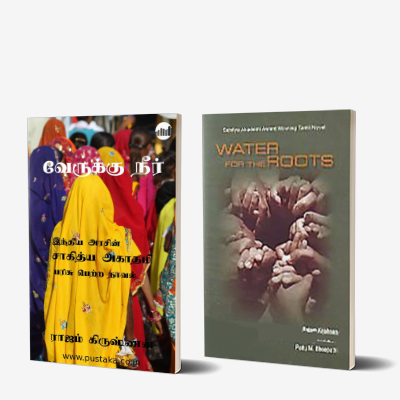 Verukku Neer
By Rajam Krishnan
Translated into English to Water For The Roots by Pattu M. Bhoopathi
Verukku Neer is written in a period where the first generation Gandhian politicians are almost done with their ruling and the new generation of politicians who didn't have any motive to serve the people is coming to power. The novel exhibits the anger of a woman (Yamuna) who follows Gandhian values all her life and also the struggle she faces with the materialistic world around her. It conveys a message on Gandhian values, feminism, democracy vs. socialist thoughts, environmental awareness, philosophy, etc. With its interplay of ideologies, however, ends on a hopeful note. The novel won the Sahitya Akademi Award in 1973.
About the Author
Rajam Krishnan started publishing her work in her twenties. She is known for writing well researched social novels on the lives of people usually not depicted in modern Tamil literature like poor farmers, salt pan workers, small-time criminals, jungle dacoits, under-trial prisoners, and female laborers. Her works include forty novels, twenty plays, two biographies, and several short stories. In addition to her own writing, she was a translator of literature from Malayalam to Tamil.
Also read
Suzhalil Mithakkum Deepangal by Rajam Krishnan
Translated to English as Lamps In A Whirlpool by Uma Narayanan
The book is a lucid portrayal of different kinds of patriarchal oppression within the family. The intimate portrait of the housewife Girija would resonate well with (most, if not all) women 'homemakers' of 2019. The feminist treatment of this story about a housewife's self-respect is especially impressive for its lucid language. Rajam Krishnan examines and portrays the golden cage of patriarchy that binds women within the house and hopes for a real transformation of values within society.