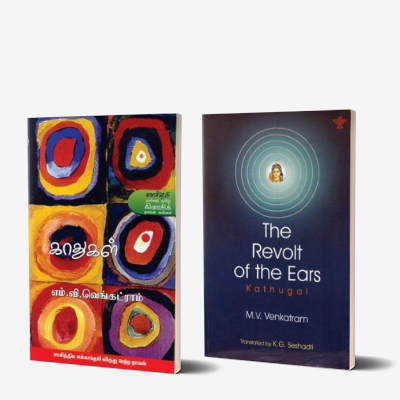 Kathugal
By M. V. Venkatram
Translated into English as The Revolt of the Ears by K.G. Seshadri for Sahitya Akademi (2008)
Kathugal portrays the colossal struggle of an intellectual with refined sensibilities to cope with the onslaught of mysterious evil forces upon his consciousness which takes the form of different sounds and human voices heard within his ears. The story depicts the various efforts the hero Magalingam makes to save himself with the help of spiritual guides and masters until finally his abiding faith in Lord Murugan saves him from becoming totally insane. He recovers his faith in the end by clinging to his personal god. The novel is in a way a portrayal of the eternal struggle between the forces of good and evil that has been going on in the mind of man ever since he was turned out of Eden. For its profound spiritual concern, its visionary sublimity, its intense portrait of the human dilemma, its subtle employment of day-to-day speech, its rare use of fantasy and its innovative narrative technique, Kathugal has been recognized a great landmark in Indian fiction.
The novel was awarded Sahitya Akademi Award in 1993.
About the Author
M.V. Venkataram first started publishing in the literary magazine Manikodi in the 1930s. His works have been published in magazines like Kaalamohini, Grama Ooozhiyan, and Sivaji. He also ran a literary magazine named Thenee briefly. He has written over two hundred short stories and novels. Nithya Kanni, Kathugal, and Velivithee are his most noted works. He wrote more than 60 short biographies for Palaniappa Brothers and translated over 10 books for the National Book Trust of India.
Also read
Nithya Kanni
A lesser-known character in Mahabharat, daughter of Yayati, became the main character in M.V.V's imagination. Madhavi had the wondrous boon of regaining her virginity each time she gavé birth to a child. As a result, she has to marry three kings and a sage. The thoughts of the earlier days and the complexity are pictured graphically in this novel.