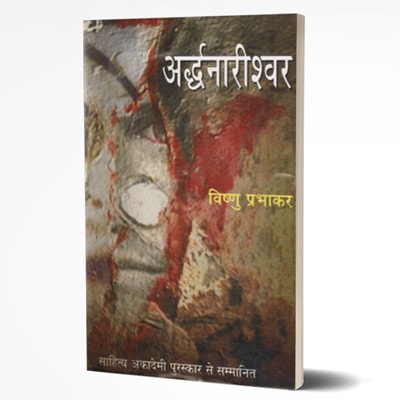 Ardhnarishwar
By Vishnu Prabhakar
Ardhanarishvar is an attempt to achieve unity and harmony between men and women at various levels of their personalities and social life. Dealing with the same problem of caste and religion, marriage, divorce, rape, woman exploitation, harassment and the same aftermaths of breaking down, shattering lives, the author points out there is no waiting for 'somebody' for salvation. He goes on to detail a comprehensive outline of the solution.
The purpose of Ardhanarishvar is to achieve equal participation of women and men. It's necessary for them to accept each other with their own weaknesses and to accept that a combination of mother nature and a male is necessary for creation.
Prabhakar's works have elements of patriotism, nationalism and messages of social upliftment. Although mainly a story writer, Vishnu Prabhakar has written across genres of literature, including poetry. His works are said to be a mirror of modern Indian society. Aawara Masiha, biography of Sharat Chandra Chatterjee and Ardhnarishvar, however remain his most awarded and widely acclaimed works. He was awarded the Sahitya Academy in 1993, Mahapandit Rahul Sankrityayan Award in 1995 and the Bhushan, the third highest civilian honour of India, by the Government of India in 2004.