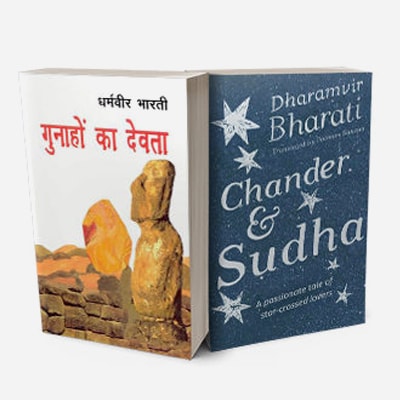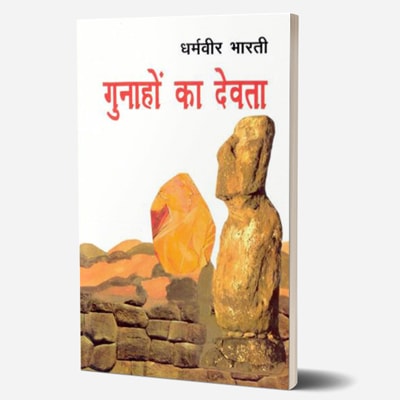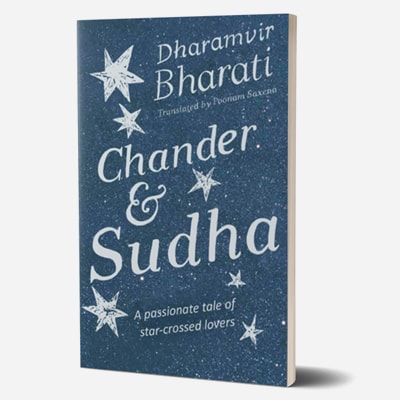 Gunahon Ka Devta
By Dharamvir Bharati
Translated to Chander and Sudha in English by Poonam Saxena
The novel tells the passionate love story of Chander and Sudha. The plot is simple and devoid of any distracting thrilling moments. Instead it is driven by the interaction of the central characters that is in many ways innocent as well as naive. What makes this novel so unusual, and one of the biggest bestsellers of its time, is the author's ability to present his characters with conflicting choices that have fatal consequences. The story is set in Allahabad just after Partition; a young research student, Chandrakumar Kapoor, an orphan, who is mentored by Dr Shukla, a widower, becomes very close to his daughter, Sudha. The two share a relationship that is deep and strong, and their attraction for each other increases with the passage of time. That Sudha is in love with Chander soon becomes apparent to the reader and other characters such as Sudha's best friend, Gesu, and Sudha's cousin Binti. Chander is from a lower caste than Sudha and that is why he doesn't dare ask for Sudha's hand in marriage from her father. While Sudha seems to be 'modern', she cannot stand up to the social pressure to get married to the man of her father's choice; Chander also forces her to abide by the wishes of her father. This, then, is the turning point in the novel but it is also through this tragedy that Bharati has made the story appealing to readers.
The writer uses this love story to hold a mirror against society's socio-economic divide that tears people apart emotionally. He also suggests that in such a restrictive society, young adults are bound to develop romantic feelings for anyone from the opposite sex whom they get a chance to interact with on a regular basis because they have limited options. While they have been exposed to the modern concept of a loving relationship between two adults, society still considers marriage a sort of compromise rather than a fulfilling relationship.
Dharamvir Bharati (25 December 1926–4 September 1997), born in a Kayastha family of Allahabad, was a renowned Hindi poet, author, playwright and social thinker. He was the chief editor of the popular Hindi weekly magazine Dharmayug from 1960 till his death in 1997. He did his MA in Hindi from Allahabad University in 1946 and won the 'Chintamani Ghosh Award' for securing highest marks in Hindi.
The 1950's were the most creative period in Bharati's life. He wrote many novels, dramas, poems, essays, and critical works during this phase and was awarded the Padmashree for literature in 1972 by the Government of India. His novel Gunaho Ka Devta is all-time classic. He was also awarded the Sangeet Natak Akademi Award in Playwriting (Hindi) in 1988.