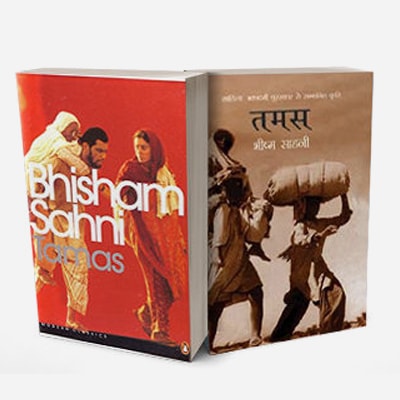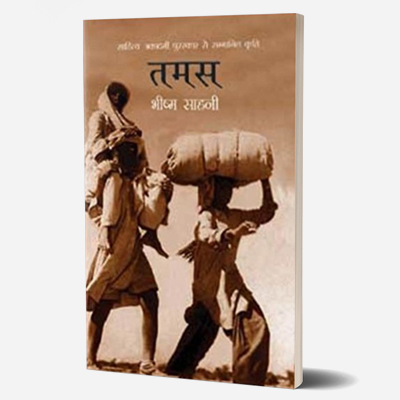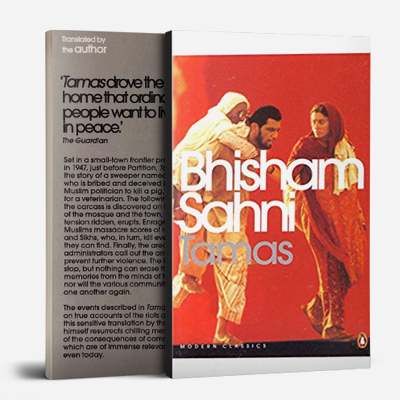 Tamas
By Bhisham Sahni
Translated by the author himself
Tamas is the 'reflective response' to the partition of India and Pakistan – one of the most tragic events in the history of the Indian subcontinent. Partially based on true events that Sahni witnessed himself in the communal riots during India's Partition in 1947, the novel follows the life of people from both communities – Hindu and Muslim, and from various classes and backgrounds, as tensions in cities build up.
The novel opens with a man from a low caste, a tanner named Nathu, slaughtering a pig. He has been offered five rupees by an influential Muslim man named Murad Ali to kill the pig, having been told that it is for veterinary purposes. Murad instructs him to dump the carcass in a pushcart, and Nathu considers his work done. The next morning, the pig's body is found on the steps of the local mosque by the Congress committee, comprised of members of all three major religions. This act is seen as a provocation, assumed to be done by the Hindu community. In retaliation, a cow is slaughtered and the city, already full of tension surrounding the forthcoming Partition legislation, erupts into rioting and murder.
Tamas presents a snapshot of a violent and fractured period in Indian history and through fictionalization allows the reader to inhabit the minds of those who perpetrated and suffered through its worst crimes.
Bhisham Sahni was one of the most prolific writers of Hindi literature. He was a writer, playwright, and actor, most famous for his novel and television screenplay Tamas (Darkness, Ignorance), a powerful and passionate account of the Partition of India. He was awarded the Padma Bhushan for literature in 1998, and Sahitya Akademi Fellowship in 2002.
He joined the struggle for Indian independence. At the time of Partition, he was an active member of the Indian National Congress, and organised relief work for the refugees when riots broke out in Rawalpindi in March, 1947. In 1948, Sahni started working with the Indian People's Theatre Association.
Tamas is one of those rare Hindi novels that has been translated not once, but twice. The first translation, by the indefatigable translator of Hindi and Urdu, Jai Ratan, was published in 1981. The second was undertaken by Sahni himself, who came to realise there were serious problems with the Ratan's translation, and published in 2001.